Paul Loska, PLS
Chief Executive Officer
Paul Loska, CEO and co-founder of GIS Surveyors Inc. is responsible for managing the overall operations of the company. With 30 years of land surveying expertise, Paul's vision is clear: Cultivate the right team of professionals to deliver high-quality, innovative geospatial solutions for every client.
Under Paul's leadership, he has grown GIS Surveyors Inc. to more than 50 employees with offices in San Diego and Orange counties, as well as Seattle. The firm is now an employee-owned company with clients in the industry segments of municipalities, utilities, and government agencies.
Paul began his career as an Artillery Surveyor in 1987 in the United States Marine Corps. He developed leadership and accountability traits that would later serve as the foundation for GIS Surveyors, Inc. After graduating at the top of his class in both the basic and advanced Marine Corps Survey schools at Fort Sill, Oklahoma, Paul refined these skills in service to our country during Operation Desert Storm and Desert Shield. During his military career, Paul learned the value of attention to detail and commitment while honing the ability to solve problems in less-than-ideal situations.
Recognizing the market need for his clients to have a one-stop-shop for all things geospatial, Paul partnered with Mattew Van Eck to form GIS Surveyors Inc. They added to land surveying the services of GIS, LiDAR, and Utility Locating Services.
Paul is licensed to perform Land Surveying in the State of California and has remained true to his roots by maintaining his commitment to the service of military veterans and others in need. He founded the Post Traumatic Stress Disorder Foundation Southern California Chapter and continues to serve on the operations board. Paul also volunteers with local Alzheimer's programs and is active in numerous charities. When Paul is not busy making waves in the geospatial community, you will find him making waves along the Colorado River in his boat with his wife and six, yes six, children.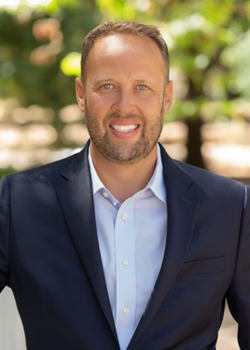 Matthew Van Eck, GISP
Chief Technical Officer
Matthew (Matt) Van Eck is Chief Technical Officer and co-founder of GIS Surveyors Inc. He is a GIS subject matter expert responsible for the creation and implementation of client GIS programs and oversees operations for the company's GIS, land survey, LiDAR, and Utility Locating Services.
Matt's GIS experience spans two decades for clients that include municipalities, utilities, government agencies, and many Fortune 500 companies. His major infrastructure project work includes the San Diego Gas & Electric Fire Risk Mitigation initiative, Southern California Gas Company Pipeline Safety Enhancement Plan, and Southern California Edison land surveying on-call contract and vegetation management. He has also provided GIS services to the City of Pasadena, Los Angeles Department of Water & Power, and City of Alameda.
Matt takes pride in GIS Surveyors Inc.'s team of experts hew worked hard to form the right team of GIS experts to deliver high-quality work products that go above and beyond clients' expectations, on time and on budget.
Matthew earned a Bachelor of Science degree in Geography from Northern Illinois University. His favorite pastime is spent with his wife and three children hiking, biking, and swimming.
Dennis Rose, PLS
Chief Operating Officer
Dennis Rose is Chief Operating Officer of GIS Surveyors Inc. and is responsible for guiding operations for all essential business functions. He is a California licensed Professional Land Surveyor with more than 19 years of experience in the land survey industry.
Since joining GIS Surveyors Inc. in 2016, Dennis has held positions of increasing responsibility. Dennis was formerly Director of Operations where he was responsible for expense control, staff management, and land survey department supervision. Dennis was successful in his project work for the San Diego Gas & Electric Fire Risk Mitigation Program, Southern California Edison's West of Devers Project, and Sempra Energy's Pipeline Safety Enhancement Plan.
Prior to this Dennis was a field surveyor for 14 years where he combined his innovative skills of surveying with mapping quality assurance and quality control for clients in the cellular industry.
Dennis holds a Bachelor of Science degree in Computer Information Systems from Missouri State University. Dennis is an accomplished musician who enjoys spending time in his music studio or doing outdoor water sports with his wife and three children.
Hans Grimm
Senior Accounting Manager
Hans has 16 years of accounting and finance experience, specializing in taking small and medium-sized businesses to the next level.  He graduated from CSU East Bay with a degree in Business Administration and earned his CPA while working for Armanino.  He has spent his career in client consulting where he prepared tech companies for IPOs and acquisitions.  Through his work he learned to begin any assignment with the end result in mind, and he brings the same goal-oriented drive to GSi.
Dan Bellissemo
Director of LiDAR and Remote Sensing
Dan Bellissemo is Director of LiDAR and Remote Sensing at GIS Surveyors Inc. He is a results-oriented project management professional with more than 30 years of demonstrated ability in LiDAR, geospatial solutions development, team management, and product development.
Dan's work spans project management, enterprise data solutions, technology and equipment solutions, data conversion, imagery, hardware, and geospatial project management. His industry segment capabilities include state, local and federal government, defense and intelligence, international agencies, educational institutions, power utilities, and commercial companies.
Clients appreciate Dan's trusted understanding of the innovative LiDAR technology needed for products and his ability to develop strong customer solutions across target markets.
Tiffany Kha
Technical Drafter
Tiffany Kha is a Technical Drafter of utility infrastructure for GIS Surveyors Inc. Tiffany seamlessly integrates with utilities to standardize their mapping and drafting procedures, perform technical drafting from simple voltage timelines drawing to georeferenced complex drawing and train utility employees on the streamlined processes and procedures.
In her role, Tiffany creates voltage timelines for utility infrastructure between poles and substations and helps draft substation details. She regularly locates and maps circuits and performs system updates.
Not one to sit back and wait, Tiffany is always anticipating the needs of her clients. She creates online tools to support utility employee training on the latest drafting technology and seamlessly integrates as a team member in any utility GIS department. She continues to work with utilities on opportunities to help team members navigate new systems and procedures.
Prior to joining GIS Surveyors Inc., Tiffany was buyer for Wärtsilä, a document control specialist, drafter (in 2D of wiring diagram and 3D of building model console and its assembly). She learned AutoCAD at UCSD and SolidWork at Palomar College and continues to pursue online courses.
Rachel Lambie
Chainperson Land Surveyor
Rachel Lambie is a Chainperson Land Surveyor for GIS Surveyors Inc. She ensures site topographic conditions are adequate for new projects and specifications adhere to laws and regulations.
Rachel works with utilities to stake locations and collect data in order to safely and efficiently install pipelines and other critical infrastructure. She excels at locating property corners and monuments, or property markers as they are often called, to establish maps and boundaries for property ownership.
To be a successful chainperson requires substantial on-the-job training, and Rachel has clocked the hours. She got her start at a land surveying company in Alaska, before moving to Las Vegas where she continued to hone her craft in the field with Horizon Surveys. She worked with several party chiefs, including her husband, before becoming a party chief herself.
Rachel served as party chief for Stewart Engineering before joining GIS Surveyors Inc. Her favorite part of her job is the camaraderie she enjoys with her team.
Gavin McKellar
Field Operations Manager
Gavin McKellar is Field Operations Manager for GIS Surveyors Inc. He has almost 30 years of land survey experience for the private, public, utility, and government industries both in the UK, Europe & USA.
Gavin is responsible for ensuring all company crews have the latest training in field safety, procedures, and processes. He is also responsible for the scheduling and resourcing of field crews. Along with Gavin's land survey experience, he is proficient in land survey hardware and software, GPS, and terrestrial measurement methods. Together this allows Gavin to produce high-quality GIS and CAD deliverables.
Prior to joining GIS Surveyors Inc. Gavin graduated from the University of Glasgow, in his home county of Scotland, with a degree in Topographic Science. He went on to complete 12 years of experience with a couple of survey companies as party chief & survey manager positions.
After moving to the US, Gavin worked on a wide range of survey projects including regular projects involving control, boundary & topo but also some more diverse projects such as real-time 4D structural monitoring, tunneling & large scale GIS data collection.
Amy Parker
Proposals & Procurement Manager
Amy Parker is the Technical Writer and Marketing Coordinator for GIS Surveyors Inc. She is responsible for the development of client technical reports and procedures. She also oversees the implementation of the company's marketing strategy.
Amy translates the technical work of the company's land surveying, GIS, LiDAR, and utility locating service teams to client documentation, processes, and procedures they can use every day.
In 2010, Amy was selected for the Metropolitan Police's Graduate Development Scheme in London. During this mentorship program she developed and implemented innovative technical solutions for professional project teams to create efficiencies and increase productivity.
Amy holds a Master of Science Degree in Chemistry with Forensic Science from the University of Sussex in the United Kingdom. Her certifications include the Information Technology Infrastructure Library Version 3 Foundation Course, JSB Training and Development Certificate in Effective Project Management, Thales Training and Consultancy Presentation Skills Course, APMP Certificate in Project Management, and BCS Certificate in Requirements Engineering.